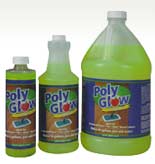 The Trade Adjustment Assistance program was beneficial from the very beginning. When you're an old company like we are, starting in 1961, the tendency is to get tunnel vision. Our TAAC project manager was able to provide an informed unbiased perspective on our business, where we needed to set our goals and how to get there. – Adeline Smith, President, Old Western Paint Company 
Background
Adeline Smith started working for her father's paint company as a teenager.  Since its inception in 1961 to today, Old Western Paint Company has provided quality products to meet the needs of the paint and flooring industry. Now, as president of Old Western Paint Company, Adeline oversees the manufacture and distribution of a full line of high performance, commercial and residential floor finishes, surface cleaners, and high-quality paints, as well as the operations of an in-house retail store.
Situation
Consolidation has been a significant game-changer in the industry. As the larger multi-national conglomerates gain scale in their operations through acquisitions, the competitive challenges continue to mount for the smaller manufacturers. Already armed with a strong customer base, and quality niche products, Old Western Paint Company utilized the Trade Adjustment Assistance for Firms program to strengthen its marketing efforts, as well as to streamline a part of their manufacturing process.
Solution
Old Western Paint Company has several marquee products they wished to better highlight. The first product to attack was Poly Glow, a concentrated surface cleaner for daily maintenance of hardwood floors. All marketing materials for the product were completely revamped, including the creation of a new product logo, label and brochure.  Old Western Paint then took on another product, Rocky Mountain Pure Paint, a new paint line with significantly lower VOC (Volatile Organic Compounds) and odor levels than the industry norm. New labels and brochures highlighting these attributes were developed to gain a market advantage in an increasingly green market environment. In fact, sales of this product have already increased by 10% in the eight months since instating the new marketing materials.
All Old Western Paint Company products are manufactured and bottled on the premises. Trade Assistance Funds were used to design and build a new container filling system that can be used for all of Old Western products. The addition of changeable parts for different product handling, angled equipment for ease of pour, and sizing that is compatible with forklifts to remove the finished product, has resulted in significant reduction of labor hours needed. For the majority of product batches, two hours of labor have been eliminated. With 500 to 3,000 gallons of product a day, those labor savings have increased efficiency and capacity to meet increased business demands.